---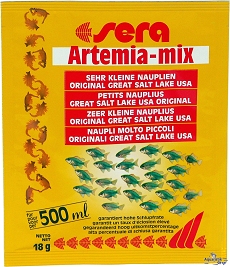 ---
sera Artemia-mix is an innovative, readily portioned complete breeding mixture for Artemia nauplii. All you need to do is pour the contents into a clean container with 500 ml water and aerate it. With this kit, even people will succeed who have no experience with breeding live food. The biological value of the Artemia nauplii becomes even higher due to the nutrients contained in sera Artemia-mix.

The used Artemia eggs from the Great Salt Lake in Utah/USA are of particularly high quality. They combine very small nauplii size (important for very small fish fry !) with a guaranteed excellent hatching rate.

Do you have questions about this article ?