---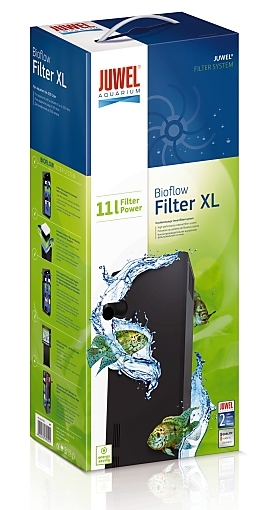 ---
The Juwel Bioflow XL 8.0 Filter System offers reliable and effective two-stage biological and mechanical filtration, together with great ease of maintenance. The high volume filter ensures low maintenance along with easy access to all the media without having to remove the filter from the aquarium. The pump of the Juwel Bioflow XL 8.0 are designed to ensure the effectiveness of the filtration system by supplying an adequate slow flow of water through the filter media. Due to the large volume of filtration material, this flow ensures a highly effective filter, which results in crystal clear water.

technical data Juwel Bioflow XL 8.0:
+ pump: Eccoflow 1000
+ Pump output: 1000 l/h
+ Filter Volume: 11.00 l
+ Power consumption: 8 W
+ for aquaria up to approx. 500 l
+ min. aquarium height: 60 cm
+ Dimensions: 155 x 225 x 532 mm (width x depth x height)
+ complete with filter media !

Do you have questions about this article ?